Welcome to Lighthouse Tai Chi®


Part Of The Lighthouse Fitness & Well-being Brand UK





Margaret
Often have 'wow' moments about Tai Chi, so here are a few of them!
1. One of my daylight evening cycle rides includes the stretch from the Hare & Hounds on the Bury - Bolton Road over to Road End. Previously, if I hadn't cycled it for a while, I needed one of the two lowest gears for the first part. After not riding it for several months, I pedaled up in a middle gear this Spring. The only alteration to my winter routine was regular Tai Chi practice.
2. Last year, when we were working on the Chen form, I was struggling with my feet, & really didn't think I'd taken any of it in....but during the Chen workshop on World Tai Chi Day, the memory was there in my muscles.
3. & on the subject of my horrid feet, last spring, the work on engaging my big toes was pretty well impossible - the right toe wasn't just disengaged, it felt pretty well disembodied. However, post-surgery & when the physio was teaching me the rehab exercises, it was incredibly useful that I already had practice in attempting to engage the big toe, as this is a crucial part of achieving & maintaining a successful outcome for the surgery.
4. This morning, I spent two hours deadheading daffodils in Rawtenstall, many of them along an awkward section of banking. It was far easier when I focused on rooting the back foot, & also I could switch easily between working left & right handed. I love being able to apply Tai Chi concepts to tasks like that.

Hazel
Thank you to both of you for providing yesterday's workshop. You pitched the information at just the right level. I found the whole session informative. The handout is a good resource, which I've been reading today. The guidance for practice has helped me to remember the moves today. I'm going to practise the breathing meditation as I feel it will really be beneficial.
Victor
Thanks for today, it was brilliant and most informative, not at all easy, but that's the feeling when you're learning a new habit ....fantastic day ...your style of learning is very good ...relaxing but direct .....
You both are brilliant at what you do , and I'm very pleased I've joined as a student ....I'd really like to do it again soon , so count me in whenever you decide ...I'm thirsty to get this into my DNA ....
PS ..have you put your prices up yet .? ..you should ...! ...I mean it .
Judith
Thank you so much both of you for organising the day ... thought it went really well. Glad to see I joined the best teaching team in Lighthouse and how much I've learnt in a year!!


Karen
I just wanted to say a big thank you for today. It's a huge undertaking to organise such a day for 50 people and you did so with huge professionalism, good humour and aplomb.
Your emails gave all the information that helped take any uncertainty from the experience - I need the who, what, where, when, why and how 😊
I have gained so much since I started sessions with you in September and today confirmed that I found incredible teachers.


Abby – Burnley FC in the Community
Thank you for the Extra Time session that Abby Millard booked in with Lighthouse Tai Chi. It was very well received and we had a large amount of the participants get involved – which is great.

Miriam – Trefoil Guild
Everyone I spoke to enjoyed your session and there were many positive comments on your teaching and delivery style. Such lovely teachers for beginners and so patient were just two that spring to mind. I am quite enthused by the art and would really like to carry on.

Mark – Bury Leisure
Thank you again for your taster session at the cancer class on Tuesday, all the participants enjoyed it and will be in contact with a view to joining your classes in the community.



Sue
I must thank you both, since attending your weekly classes in Colne, I have not only improved my flexibility but feel emotionally better.
It's wonderful to do a group activity as it feels like our own family/community.
Your level of teaching is wonderful, you not only bring knowledge about the form and postures, you also have the added bonus of wisdom about how each section is performed, it flows so naturally and is delivered with so much light hearted humour, it makes us all smile. In just ten sessions with the sword Helena, I know I am just at the basic level but I feel more confident and eager to learn more, thank you
Jo
Helena here is some feedback on the sessions with David at Accrington. I absolutely love coming. The Tai Chi teaching is wonderful. I have been a member of another group in Great Harwood before and was very lost as everyone had been going for years and it was simply a matter of copying what others were doing. David gives us in depth instruction suitable for our level and as a result I am getting so much more from it. I am so grateful to you both for giving me so much enjoyment. It fits in with so many other interests of mine. EG meditation which I do daily and have recently started teaching a couple of friends meditation. With David I am beginning to feel the energy and it is wonderful. Thanks to you both.


Barbara
I really enjoyed your classes which were very professional friendly and fun



Margaret
I always feel the sessions I attend are beneficial to me, even though some aspects are difficult. This is the fifth year I have been coming and I am still not good at it, but I do enjoy coming. The atmosphere is friendly and so I feel comfortable even when doing things wrong - I think that is largely due to your approach - so thank you.

Joanne
Thank you both for you encouragement in the last two years, today topped everything for me personally especially my mental health, fantastic I would recommend Tai chi to anyone in the same situation.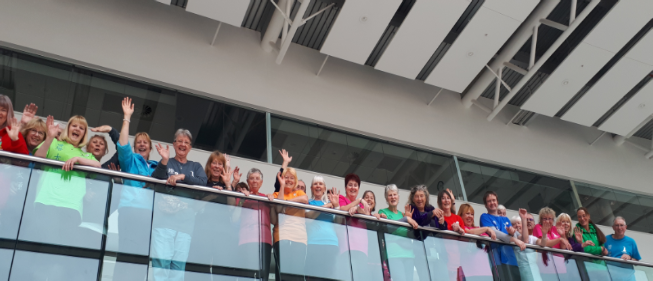 Lighthouse Tai Chi ® are available for workshops, demonstrations & talks. Please get in touch for prices and availability.

Janice
I have attended various workshops run by Helena and Dave and am always impressed by their professionalism. Each course has been run efficiently and their enthusiasm and total friendship shines through . The relaxed and comfortable environment provides the perfect situation for learning